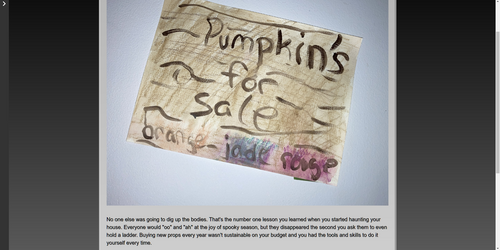 Welcome back.
It's been an exciting few days here. It really is hard to imagine that I finally get to talk about all the wonderful things going on with Haunted.
The demo has been updated with the finalized graphics available to that branch of the story. We can't give away all the surprises yet, can we?
The artwork in the game is an extension of what I've done for years. For one thing, I am a home haunter. I started at 13 and I turn 36 in a week. This story, its style, and the tips inside are based on a reality. I've done versions of these haunts before. I am the house with the weirder take on Halloween and the neighborhood loves it. There's no marking here. I go full out every time.
As an artist, I've found my niche in mixed media paintings. I combine watercolor, acrylic, pastel, ink, paper cutouts, sewing, photography, sculpture, and digital art to bring my vision to life. My art is its own form of weird fiction. I want a reaction and I want a story to be told just from looking at it. Why is that demon so sad? How did that fishing trip go so wrong? Were the woods really staring back at you?
I'm excited for you to see how the stories branch out and progress with the art. It's going to be a good time.
Remember to try out the demo, follow the project on itch.io, and share with your friends.
Get Haunted (A Slip Story)